Taxonomy and Systematics of

Homoioplax haswelli

(Miers, 1884)

The Panopeidae Ortmann, 1893, is a wholly American and Atlantic brachyuran family, with the exception of

Homoioplax haswelli

(Miers, 1884). This species was first described from the Arafura Sea, north of Australia, and subsequently reported from off the Kei Islands and off northwestern Australia.

Homoioplax

Rathbun, 1914, was established and assigned to the Prionoplacinae Alcock, 1900 in the Goneplacidae MacLeay, 1838, because the male pleon did not fully reach the bases of the ambulatory legs. Prionoplacinae was subsequently shown to be a junior synonym of Eucratopsinae Stimpson, 1871, and eventually placed in the Panopeidae Ortmann, 1893. The position of

Homoioplax

however was not re-evaluated and as a result the genus has remained in the Panopeidae as the only Indo-West Pacific representative of the family. Consequently, this study has examined the juvenile syntypes of

H. haswelli

in detail with a view to revising its systematics.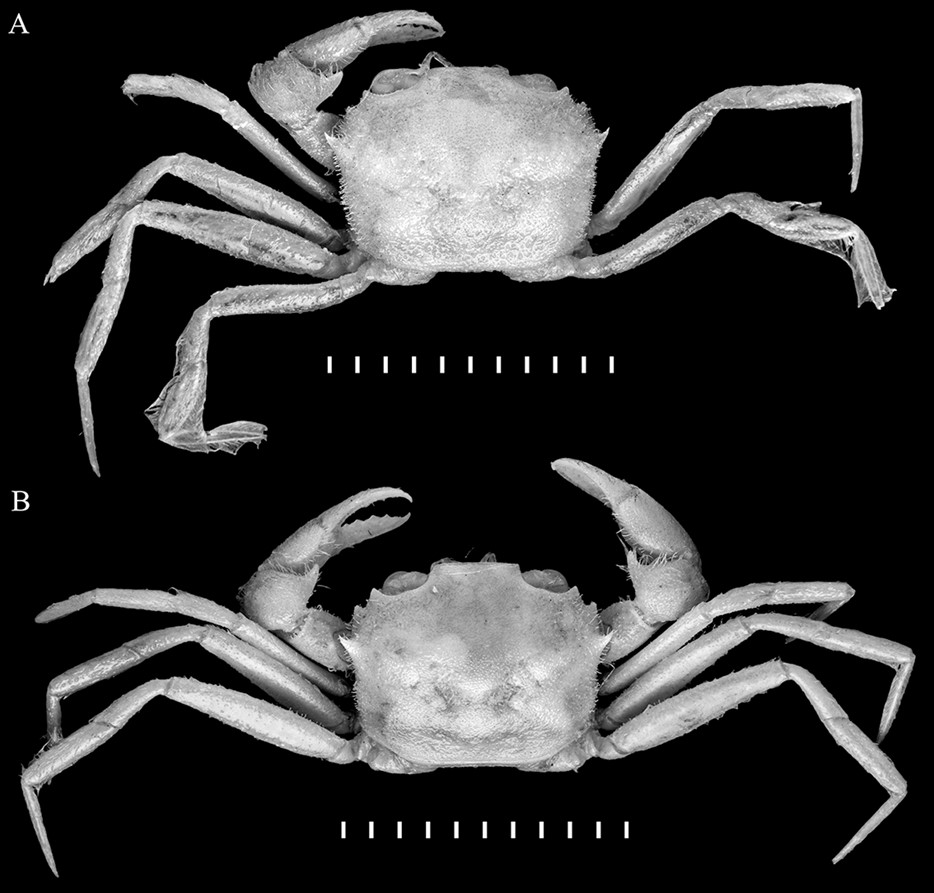 Dorsal habitus.

Carcinoplax haswelli

(Miers, 1884) comb. nov. A, lectotype male (10.2 × 7.3 mm) (NHM 1882.7); B, paralectotype female (9.0 × 6.6 mm) (NHM 1882.7). Taken by Kevin Webb, NHM Photo Unit.

Read the full article, published by

Zoological Studies

, here

Follow

Zoological Studies

on Twitter @ZooStudies and Facebook